Welcome to the Paper Model E-Gift Shop which offers a variety of FREE paper models for every ability level. All you need is paper, scissors, glue, and patience. Why not start a new hobby, or add to your collection?
Browse my site and find a paper model that appeals to the kid in you. Download the model, print it from your color printer, and let the fun begin!
Enjoy.
- Jon Leslie

Well we did it!!

We have hit 1,000,000 hits of fans of paper models, and to celebrate, Dave from Cutandfold.info has created a special model in his unique style. A model in plastic that I made when I was child, and now re-produced in paper, the MOON MIXER: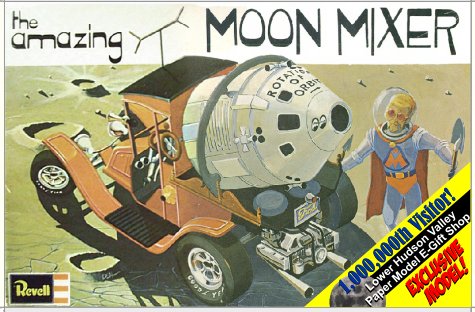 Complete with the original box art!

Thanks again to all my loyal "customers" for making this possible.

- Jon



Meantime, let us at the egiftshop know what you think.
Sign our Guestbook on the left, and feel free to upload
pictures of your builds.



Now Back by popular demand (yeah I wish...)
Help keep this "giftshop" running with your
financial support.